Prince Harry pays a visit to Manchester attack mental health service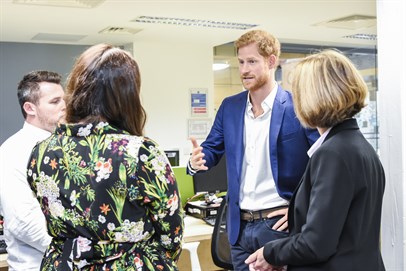 His Royal Highness Prince Harry visited staff at the Manchester Resilience Hub today, 4 September 2017, to understand how they are providing mental health support to people affected by the Manchester Arena attack.
The Manchester Resilience Hub is an enhanced NHS mental health service set up to specifically help people who have been affected by the Manchester Arena attack, including concert goers, children, families and professionals.
The Hub provides a central point for mental health advice and support and works with other agencies across the country to develop packages of care.
It is hosted by Pennine Care NHS Foundation Trust and staffed by trained mental health professionals with experience of helping people who have experienced trauma.
As part of the visit, His Royal Highness received a detailed briefing from the Hub's adult and children's clinical psychologists, Dr Alan Barrett and Clare Jones.
He then met with clinical staff and support workers, learning more about the sorts of problems people are experiencing and how the service is helping them.  The visit concluded with Prince Harry meeting a wider group of people who have been involved in mobilising the service from when the attack happened.
Commenting on the visit, Dr Alan Barrett, Consultant Clinical Psychologist and adult clinical lead for the Hub, said: "Since the attack happened, there has been a great deal of teamwork and collaboration between NHS organisations and partner agencies to mobilise the Hub.  Practically all of our staff have been released from their permanent roles to work in the Hub, so many people have been taking on additional work on top of their day jobs.
"Whilst our staff are trained in dealing with trauma, it can still be difficult to process the gravity of the Manchester attack, so having Prince Harry come to visit the team has been a tremendous boost for everyone involved.  He is a real champion for mental health and it was fantastic to be able to tell him about the work we do here and how we are helping people."
For more information about the Hub visit penninecare.nhs.uk/mcrhub or call 03330 095 071.